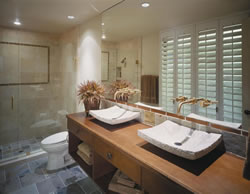 Dreaming of a bathroom remodel?  Modern bathrooms have become extremely luxurious in the last few years.  Today's bathroom has evolved from a completely functional room, to a spa-like retreat.  Check out these up-and-coming trends that will elevate your bathroom to a luxurious experience.
His-and-Hers
Homeowners today are requesting dual vanities more often, even in smaller bathrooms.  Adding another sink to shared bathroom can be a necessity, especially if two people utilize the sink at the same time during the day.  For more individualistic personalities, a personal sink allows the freedom to arrange counter and storage space the way he or she prefers.  Much more than a simple comfort, two sinks in one bathroom can be quite practical.
Entertainment
The television is considered a staple in the modern American home, and it's no surprise that more and more people are requesting a television in the bathroom.  Many homeowners enjoy watching the news as they prepare for the day, or viewing a favorite sitcom while soaking in the tub.  This extravagance is actually becoming quite common in today's bathrooms.  TVs can be easily tucked into a corner, or hidden behind a mirror.
Stow Away
Storage needs for the bathroom differ from other rooms in the house.  Bathrooms don't require a lot of large, deep drawers like the kitchen does.  Instead, homeowners want small drawers, with dividers, to store toiletries.  Vertical storage is becoming a bigger trend, since it's so practical in the bathroom.  There are multiple options for those who require a lot of storage in the bathroom.
More Light
Today's homeowner is looking for more light in the bathroom.  Many are asking for additional windows, and larger windows, than they did several years ago.  If you have room for only one window, consider enlarging it.  This will allow more light into the bathroom, even with limited space.  Panels of clear or frosted glass in the shower are another excellent way to let in more light.
Going Green
No matter what new luxuries your remodeled bathroom will contain, ensure that you remember sustainability.  Being eco-friendly is important, and there are many ways to implement green alternatives into your bathroom.  If you have a heated floor, attach it to a timer.  Invest in a low-flow toilet.  You may also want to investigate an on-demand water system, which eliminates the need for a water heater.
Your Dream Bathroom
If you're interested in remodeling your bathroom, visit Michigan Building Specialties!  We offer two showrooms in southeast Michigan, in Adrian and Ann Arbor.  We're happy to help you with any remodeling questions you have.  Simply visit us online at www.4-mbs.com or give us a call at 866-464-2534.