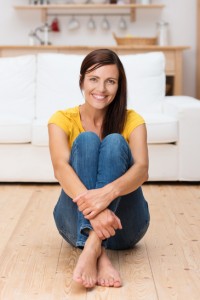 Floors are the foundation of any room, literally and figuratively. They add not only a sturdy surface to all of our rooms, but also contribute to the overall style and feel of our home. Floors also tend to be the largest surface in any room, so they need to be comfortable and durable. Installing new flooring is also a big investment, so if you're ready to change the flooring in one or more of your rooms, you need to choose wisely.  If you're not quite sure where to start, consider these floor selection tips before you begin:
Know Your Design Style
When considering flooring options, don't be swayed by whatever is currently "fashionable". Focus more on who you are as a person and what your tastes are. What are your favorite colors? What patterns speak to you? Do you like rich grains like those found in hardwoods, the soft warmth of a luxuriously thick carpet, or the clean and sleek simplicity of tile? What kind of décor are you drawn to? Do you plan on redecorating the entire room, or are you just redoing your floors? Staying true to your own personal preferences and existing decorating style will help you avoid ending up with a costly new floor that just isn't "you".
Know Your Lifestyle
Before settling on a new type of flooring, consider the room it's going into. Will you be remodeling your kitchen floors and are someone who loves to spend hours cooking and baking? You might want to skip the tile since it can become uncomfortable on your feet after long periods of time standing. Looking to redo the bathroom your kids use? Look for flooring that can withstand all of those wet footprints and piles of soaked towels. Have pets and want a new floor for your entryway or living spaces? Avoid hard to clean flooring and light colored carpets. Considering how you and your family live will help you select flooring that will withstand wear and tear for years to come.
Know Your Budget
When deciding on whether or not to go with hardwoods, tiles, or carpet, don't forget to budget in the additional costs. Underlayment, delivery, installation, and the removal of your previous flooring are all costs you must consider. Also, remember to factor in additional materials such as baseboards, stains, or adhesives.
Know Your Options
What if you've considered your tastes, lifestyle, and budget, but still aren't sure exactly what types of flooring are available to choose from? Need to know more about the flooring you've decided to go with? Explore these links, explaining more about the latest floor options:
Need more information on floor remodeling?  Please visit our website at http://www.4-mbs.com/.
Ready to get started? Call Michigan Building Specialties at 866-464-2534 for a personalized home remodel. We have locations in Adrian and Ann Arbor, Michigan. We look forward to meeting you!
Adrian
1001 W. Beecher St.
Adrian MI, 49221
Ann Arbor
179 Little Lake Dr.
Ann Arbor, MI 4810
Connect to MBS