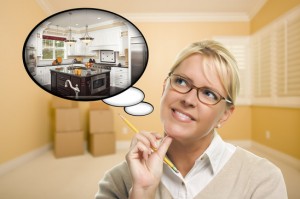 The holiday season is one of the most stressful times of the year and remodeling projects are some of the most stressful projects we can ever undertake.  Combine the two and you could be setting yourself up for stress levels of epic proportions! However, if you find plan to start  a remodeling project during the upcoming holiday season, or are in the middle of one that won't be finished before the holidays hit, have no fear! Michigan Building Specialties can help get you through it with your sanity intact.
Organize
Make a detailed list of any items you will need regular access to during the project. If you are remodeling a bathroom, store frequently used health and beauty supplies in an adjacent room in clearly marked containers. If you're working on a new kitchen, consider setting up a small temporary kitchen that includes things such as a microwave, coffee pot, and mini fridge in another room or the garage. If you're remodeling a living or sleeping space, set up an alternative sleeping area or relaxation area in another part of the house.
Plan Ahead
If a kitchen remodel is on your agenda, make plans for meals before you begin. If you'll have access to a freezer during the project, make several meals ahead of time and store them in single serving containers. Ask helpful friends for access to their kitchens, offering to cook for them in exchange for using their space. Clip and store takeout menus and coupons in an easy to access place. If it's a bathroom that will be out of commission for a while, make sure you have alternatives available, especially if you do not have a second bathroom in your home. Ask friends and family if you can shower at their houses, research portable bathroom options, discuss bathroom access with a neighbor, and make sure you know all the public restrooms in your neighborhood.
Set Ground Rules with your Contractor
Make sure to discuss your wishes with your contractor before the remodeling starts. Explain to him important information such as what time of day they can start working, how late he can work, where he should park while he is at your home, how you wish him to store his tools and dispose of trash, and whether or not there are any young children or pets in the home he needs to watch out for. Talking over these issues with your contractor beforehand will prevent problems further into the project.
Don't get discouraged
Set up a bulletin board to keep track of the progress of your project. Make a list of steps you need to take to finish the project, and check them off as they are completed. This will keep you focused on the end result and prevent you from becoming frustrated with delays.
Although undertaking a remodeling project during the holiday season can try the patience of the calmest person, it can be done with minimal stress! By making sure you are well prepared before the actual work even begins, you can keep the project running smoothly without losing your cool!
For more information on stress free remodeling, please visit our website at http://www.4-mbs.com/.
MBS
Call Michigan Building Specialties at 866-464-2534 for a personalized home remodel. We have locations in Adrian and Ann Arbor, Michigan. We look forward to meeting you!
Adrian
1001 W. Beecher St.
Adrian MI, 49221
Ann Arbor
179 Little Lake Dr.
Ann Arbor, MI 4810
Connect to MBS