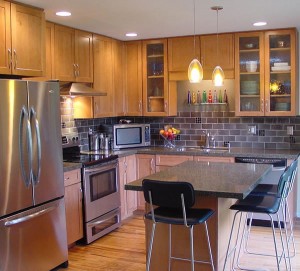 Thinking about remodeling your bath or kitchen? Michigan Building Specialties (MBS) is your premier way of getting this done. Bath and kitchen renovations are great investments that will increase the future value of your home.
We have professionals that love getting creative with you, so you can create the perfect living space. Technology has evolved so much over the years and our professionals have stayed up to date with all of the technological features that follow. Before you know it, you will be turning on your stove or microwave with your smartphone!
Our professionals can do the following without hesitation:
Install new advanced appliances
Increase storage space
Apply eco-friendly options
Add entertainment features in any room
Create beauty in any room
Kitchen Remodeling
This may be the place where you prepare your meals, but it can also be a place to hang out and entertain guests. Your design needs to accommodate any activities that happen in this space, whether it's a football game or a holiday dinner. It is important for your design to reflect who you are, and that's why we encourage creativity and ideas!
Improve your kitchen by improving any of the following:
Cabinets (bamboo, cherry, maple)
Countertops (granite, marble, slate)
Lighting (dimmers, window treatments, motion sensors)
Flooring (ceramic tile, bamboo, stone, wood, vinyl)
Appliances (Wi-Fi connections, touchpads, mobile apps)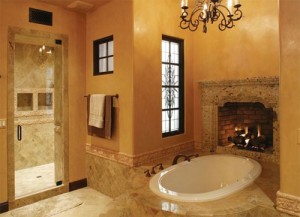 Bathroom Remodeling
Invest in beauty and style with MBS. We believe that a remodeled bathroom can change the way you live and feel. This is a private place where you can go to unwind and get pampered the right way. Try one of our custom plans to ensure your bathroom fits your lifestyle.
Example: A spa like bathtub with a fireplace, and his and her sinks with granite countertops.
Update your bathroom with the following:
Countertops ( laminate, granite, quartz)
Plumbing fixtures (unique showerheads, enticing faucets)
Lighting (overhead, controlled, spotlights)
Tiles (porcelain, natural stone, heated flooring)
The bathroom serves as a place to soothe the soul and as a place to prepare. It should be the place where you can adjust the lighting and plumbing fixtures to fit the mood or situation you are in.
You don't need a boatload of money in order to give your bathroom or kitchen a boost, just some creativity and a helping hand. We are open to all your suggestions; we want to give you the best results.
Not only will you be able to enjoy these perks yourself, but if you decide to sell your home in the future, the value of your home will go through the roof. According to SmartMoney, a kitchen remodel is considered the best way to boost your home's value. We look forward to any challenge you want to throw our way and we look forward to working with you soon!
Contact Us Today!
We're happy to help you with any remodeling questions you have. For a free consultation, simply visit us online at www.4-mbs.com or give us a call at 866-464-2534.
We invite you to stop in to one of our showrooms today, conveniently located in Adrian, and Ann Arbor, Michigan.