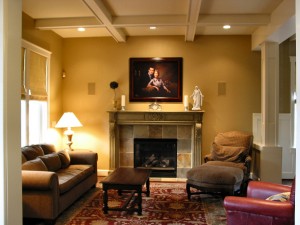 Michigan Building Specialties allows you to customize your dream like no other company can. With the help of one of our project managers, we give you the opportunity to build the lifestyle you desire and the home you've always wanted. Our creative team strives to come up with innovative ideas that will blow you away.
Conceptual Design and Planning
To make your dream a reality, we like to start with a collaboration of ideas. You will have the opportunity work one-on-one with a project designer, who will take your vision and match it with our suggestions to create the perfect design. The next step will be to create several different design illustrations to show different approaches you might want to pursue.
Project Development
Once you have decided on a design approach, you and your project designer will begin turning these ideas into a working piece of art. Every detail will be hashed out, ranging from your choice of materials, budget, specific plans, and illustrations. At this point in the project, we assess your goals and address every detail. Careful planning at this stage reduces construction costs and allows a schedule for building to begin.
Construction Documentation
Creating the specific documents needed for construction is necessary, so you can see where the project is headed and the process that will take place. This will contain structural and mechanical plans, building sections, ultimate specifications, and final project cost. We will handle the permitting process, prepare the construction agreement for review, and await your go ahead signature.
Creation
Your project manager will guide you through the construction process to ensure every remodel fits your vision. We take great care to safeguard your home, your family, your personal belongings, and your daily routine. This may include closing off the work area, covering floors, and blocking walkways with protective materials. You can count on us to keep a log of everything on site including a complete set of plans, a schedule, and daily reports. Once the project is complete, the entire site is wiped clean and polished to perfection. We make sure everything looks perfect before you first step into the newly remodeled part of your home.
Celebration
We make it our top priority to make sure that your project experience is the best one possible. We will introduce you to your new space, walking you through it to show you all of the improvements and features we have included. Nothing is more exciting than that first time seeing your new living space. We may pop open a bottle of champagne or roll out the red carpet, but you can be rest assured that we make sure you enjoy the full experience. We are always honored to have shared such a journey with our customers and look forward to the next celebration with you!
Contact Us Today!
We're happy to help you with any questions you have. Simply visit us online at MBS Design & Build or give us a call at 866-464-2534.
We invite you to stop in to one of our showrooms today, conveniently located in Adrian, and Ann Arbor, Michigan.